Alfonso the Clown used to rule the little kingdom known as Dorney Park...as you entered the park, you could see his visage, spread over the entrance - anybody else feel a little unnerved by clowns? Once inside, this family owned amusement park was so entertaining...and Kim and I frequented this playground.
This park was started back in 1870 by Solomon Dorney. He originally built it as a fish hatchery, and addd games, rides, a hotel, petting zoo, etc. In 1923, they built a wooden roller coaster, at the time, the largest, longest and fastest of its kind. Kim and I road this roller coaster often! We loved roller coasters, in general, but this one really gave you whiplash around the corners and was such a classic. There was even a house underneath it! Apparently, as the park expanded, one elderly lady did not wish to sell, so they made a deal with her to let her keep her house, and allow them to build their state of the art coaster.
Our all time favorite ride there, was called Journey to the Center of the Earth, kind of a poor man's Pirates of the Carribean. It was originally the Tunnel of Love (no small wonder this turned out to be our favorite ride!) and they added some spooky special effects, like a T-Rex head and 'lava', etc. It was almost a Splash Mountain type deal, with a lazy boat ride, finished off with a breathtaking downhill ride into a lagoon, that assured you were going home wet.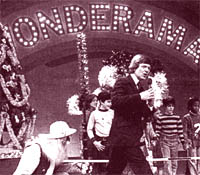 We once saw Bob McAllister host the game show Wonderama right there in the park! We hoped we'd get chosen to participate in the show...we were not selected, but sure enjoyed watching...
There was a great spook house ride called the Bucket 'O Blood and a walk through spook house called The Wacky Shack, that sadly burned down in a fire in 1983. Kim and I would go on these rides over and over and over and over...!
Of course, I always had to win her something and Kim ended up with an odd assortment of stuffed animals over the years from Dorney Park!
In 1985, the Wildwater Kingdom opened up, attached to Dorney Park - it was one of the only water parks in the entire Northeast when it opened. Kim and I loved to buy the 'dual' pass and go on rides at Dorney Park, until we were overheated and then go over to Wildwater Kingdom to ride the tube rides and cool off. In 1988, when I started working with Toys R Us, the store manager, Nick Romano, took us all there for the store's picinic.
While working with Toys R Us and managing the Broadway location, I met the general manager of Breakers, a man named Steve...he was originally from Wilkes Barre, Pa and had once been the general manager of Dorney Park - small world...you think?
Anyways, Kimmy and I loved amusement parks and went to them wherever we traveled...
Speaking of Toys R Us...it was this day, March 3rd, back in 1994, 18 years ago today, that Kim and I left the frozen tundra of Pennsylvania! The night before we left, I heard the forecast for snow, and moved our moving truck, a 27' box truck, with a full trailer to tow our Jeep Wrangler, to 8th Avenue. I knew 8th Ave would be one of the first streets plowed if it snowed and we'd have a chance to escape! Sure enough, it snowed a lot and everyone asked us to postpone our departure... I vowed that I would not spend another night in that frozen hell! We burst the truck over the plow's handiwork and drove to Baltimore to pick up my Dad, who drove my Toyota 4X4 across the country with us...a glorious trip.
A miscellaneous memory popped into my head today. One of Kim and mine earliest dates...I was 17 and thought the sure way to impress Kimmy was to buy some beer! Yes, this was a can't miss plan...except, at 17, I looked like I was 12. However, my friends, Andy Thom and Joe Slapinsky had happened upon a bar that could help. It was on the southside of Bethlehem (why is it, that every city's southside is the roughest part of town?). This bar had no name. It simply had a sign, hanging perpendicular to the entrance, with a photo of Curly from the Three Stooges on it. I loved it at first sight! It also, inexplicably, had scallop sea shells stuck decoratively on the front of the building...this was totally out of context with the rest of the block, which was a solid row of very random type of business, with about 5 stories of apartments above them.
I waltzed in there like I owned the place, leaving Kimmy in my running car (1977 Chevy Malibu, that my Dad graciously allowed me to use - we lovingly called it the 'Silver Bullet'), in this nefarious neighborhood. The bartender approached me, with an amused look on his face, and asked how he could help me? I hadn't thought about what to do once I made it inside...I liked Budweiser, but wanted something fancier, something special, to show Kim how much I cared and what great taste I had...so I said 'I'd like a six pack of Michelob please'. Not sure if it was the 'please' or my 12 year old face staring back at him, but the bartender asked 'You have any I.D.?'....'Uh, no sir, left it at home...I'm on a date and wanted to get something to impress my girl'...I stuttered....'No problem', he said and returned with my Michelob. He slipped it into a paper bag and gave me a wink and a smile. 'Good luck', he told me. 'Uh, yeh, you too, man'...and I was outta there!
Turned out, Kim did not drink beer. What a surprise. So I had to drink it myself. I'm sure that I truly impressed her there. Gives you yet more insight at to what a special lady she was, to stick with me after that date, say?
Well, on the homefront, the bambini's continue to amaze me. Cody's grades are the best he has ever had and he is about to begin track season. I tell you, I've seen every professional sport there is (sorry, golf is NOT a sport) and I absolutely feel that it is much more exciting to watch this boy play sports! He is so fast! I can't wait for the season to begin after Spring Break. Angie's youngest daughter, Kim, the RN who works on the 5th floor at St. Joseph's, and who provided Kimmy with so much comfort, picked up Antonio at school. She took him to his favorite restaurant, with her son Micah, McDonald's and they got Happy Meals! And you know, when I broke the fantastic news about Mary Montes being pregnant, I forgot to mention that Kim is pregnant too! Our Kimmy would have been, or is, so happy for Kim and Rashon! She absolutely loved this couple - they are great parents to Mariah and Micah and Tonio had so much fun playing with Micah after school today!!
Autumn stayed home with me today....she started a cough last night, that I did not like (goose walked over my grave)..and had a fever this morning. So I called Dr. Radomsky, who've we've taken the kids to for 12 years (and Janene and Kim both take their kids to) to have her checked out. Dr. Radomsky is a kind of guy you'd want to have as neighbor. He walks into the room today, immediately reminds me to call him Scott, and asks about the family. It's the first time we've seen him since Kimmy passed...our kids, like Kimmy, don't need to see the Dr. often...He's blown away, but comforts us and puts Aut on an antibiotic. We'll keep her home again tomorrow to get her ready for Kimmy's Klimb on Saturday!
Andrea told Autie to drink hot tea with honey to get well...Autumn likes it! And I made her the fideo soup, which she loves...tacos for dinner (green onion, cilantro and lettuce = veggies!)...but, my beans did not turn out - my first attempt at making the refried beans. Not enough water...
Meanwhile, Janene gave me a haircut today and brought me back to near respectability - I kept the beard and 'stache. Kimmy would never let me grow one, saying, it reminded her of when I was a 'bad person' and made me look mean...I'm just channeling my inner-Al Pacino. Janene is working on a fantastic event to benefit Kimmy's Foundation. She will open her shop on a Sunday and do a hair cut-a-thon and 100% of the $$ will go to Kimmy's Foundation!! I was so energized by her vision and how excited she was - she is also bringing her neighbors, the Shishkabob House and Arizona Pizza, into this event. I've known the owner of both for several years, from when I was managing the Linens 'N Things in the same parking lot - they are great. Now, that Linens 'N Things is the worlds largest Peter Piper Pizza, complete with roller coaster, right where the sheets used to be! I remember my current district manager, Tom, commenting that he had stopped in my LNT while prepping for his interview with me for Barnes & Noble - he said it was a clean, well merchandised building that I ran...I wonder what he would think of it now - it is overrun with video games, a sea of tables and, the roller coaster!
That's all I have in me tonight...all of the bambini have fallen asleep - praying Aut wakes up feeling good...and praying for sweet dreams, as we wait for the sunshine...
Love,
Dave